Company Blog
Reusable Medical Gowns Safer Than Disposables: AJIC Study
Posted by MEDtegrity on Thu, May 27, 2021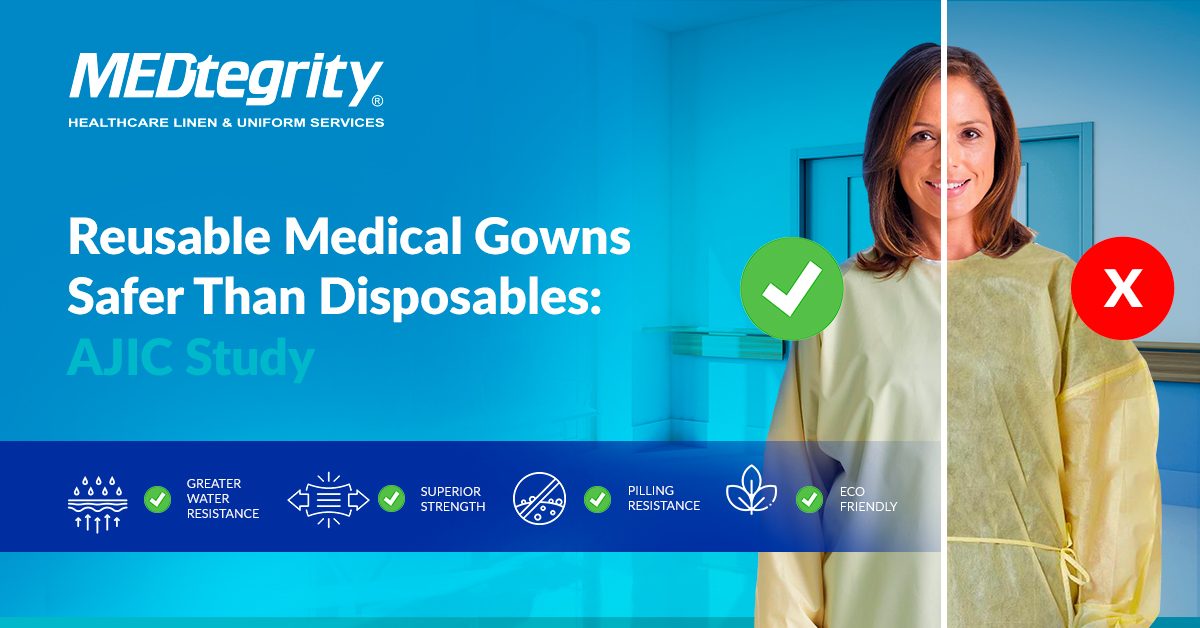 The American Journal of Infection Control (AJIC) has concluded in a study that reusable medical gowns offer greater protection than disposables. Reusable and single-use garments were tested extensively for durability and protection at various levels of contamination intensity. 
Highlights of The AJIC Study
The AJIC's study into the benefits of reusable medical gowns discovered many enlightening facts, but the most striking were as follows: 
Superior Durability
Multiple-use gowns last in ways that disposables don't. They provide greater water resistance, strength, and piling resistance than disposables. As a result, your money is put to the greatest possible use.
Benefits of Commercial Laundry Maintenance
Using laundry facilities has no negative impact on the protection or performance of reusable gowns. In most cases, it is just the opposite. Laundry facilities often track their inventory to keep a close eye out for breaches. Laundry services often take care of both repairs and replacements at no additional charge. 
Eco-Friendly Bonus
Beyond just enhanced protection and durability, reusable gowns are far more eco-friendly than disposables. The less gowns thrown away, shipped, or manufactured, the less of an impact there is on the environment. 
The CDC Weighs In 
The Centers for Disease Control (CDC) recommends reusable medical gowns over disposables as they are less impacted by shortages. A major factor behind this reasoning was the massive surge in demand for personal protective equipment (PPE) when Covid-19 hit. In future surge capacity situations, reusable medical gowns will be able to stand up to supply chain disruptions.
MEDtegrity is Your One-Stop-Shop for Quality Reusable Medical Gowns
MEDtegrity supplies the highest quality reusable gowns at the most affordable rates. No need to just take our word for it. Take a look at what our customers have to say about us. We prove the AJIC's study correct with reusable products that:
Have Steady Supply

: Our stock is barely impacted by disruptions to the global supply chain. When the next pandemic, economic recession, or trade delay occurs, our customers will still have what they need. 

Have Long Lifespans

: We make our stock tough because we understand the rigors of the healthcare industry. We put each of our products through the wringer in the most extreme environments imaginable during testing, and they still come out on top. 

Are Hygienically Clean

: Our commercial laundry service has been awarded the

TRSA's Hygienically Clean Certification

. Each gown we return to customers will be as if they just bought it. 

Are Environmentally Friendly

: The TRSA has also certified us as

Clean Green

. Our operations have as little environmental impact as possible which is why our reusable gowns stand out from the rest. 
Contact MEDtegrity Today!
MEDtegrity has the reusable medical gowns your healthcare business needs to keep staff and patients safe. Start today by giving us a call at (888) 893-3334 or contacting us here for more information.