Company Blog
The Disadvantages of an In-House Healthcare Laundry
Posted by MEDtegrity on Tue, Oct 31, 2017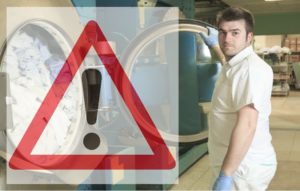 For many healthcare facilities, doing the healthcare laundry in-house is the only way to go. It is, after all, the seemingly cheaper option. With everything under the facility's direct control, it seems costs are always kept in check. But are these 'savings' really worth it?
If you're running a healthcare facility and can't decide between keeping the laundry and medical linen care in-house or hiring an outsourced healthcare laundry service provider to take care of your needs, this article is for you. 
Because medical linens are constantly exposed to possibly infectious and hazardous materials at the hospital, cleaning them takes more than just the usual washing and drying cycles. The requirements and the constant demands of taking care of these types of linens may not be as inexpensive as you may think. On top of that, there are many disadvantages and even dangers that accompany incorrect or low-quality linen servicing:
1. You'll Run a Higher Risk of Contamination

No matter what kind of healthcare facility you run, you're dealing with contaminated linens on a daily basis. If you don't use the correct procedures, washing these linens yourself could compromise the safety of your facility. The last thing you need is a lawsuit on your hands. It's much less risky to invest in a healthcare laundry that's been certified to handle medical linens.
2. You'll Spend More Than You Think

Keeping up not just with the special cleaning and sanitizing requirements of healthcare laundry and linens but also with the volume of linens needed for regular servicing requires high-grade, industrial-sized equipment. The specialized washers and dryers designed for the sanitation needs of medical facilities can cost well up to six and seven figures, not including the cost of maintenance.
Industrial-sized equipment needs industrial-sized space. It may cost your facility more to give up an existing space. Or, you may even need to build an entirely new space just to accommodate the machine.
Finally,  the chemicals used to sanitize healthcare linens aren't your ordinary household detergents. Keeping them in the inventory, on top of the other operational costs of running an in-house laundry facility – including electricity and water bills, specialized sealing and sorting equipment – may result in a financial and accounting nightmare.
3. You'll Have to Train Your Employees to Become Healthcare Laundry Specialists

Like we've said before, cleaning medical linens isn't your average, run-of-the-mill laundry procedure. Every step of the healthcare laundry process poses a risk for cross-contamination. The smallest misstep could possibly create a major infection crisis.
The personnel who carry out these tasks must be trained in industry-approved sanitation procedures – from washing and disinfecting to sorting the items pre- and post-washing procedures. And the training is never a one-time occurrence. To evolve and adapt to the changing needs of the industry and keep up with public health standards, training must be constant and timely. This can be a costly burden on your facility's budget.
4. You'll Lose Focus on Your Patients' Health

The burden that comes with running an industry-approved, certified sanitary, and efficient linen service system requires special attention. It can get overwhelming, administratively and financially, and may cause your facility to lose focus on what your services are truly about: the welfare of your patients. With so many risks and expensive costs at stake, an in-house linen service system may be more a liability than a money saver.
An In-House Healthcare Laundry Isn't Worth the Risk

To ensure that you get high-quality, certified sanitary linens, keep up with your volume demands, and get your investments' worth, find a linen service provider that knows everything there is to know about healthcare laundry. Partner with MEDtegrity!
Our HLAC and Hygienically Clean certified facilities cater to the special demands of uniforms and linens for the healthcare industry. Partnering with MEDtegrity ensures that you won't have to worry about your linens – ever.
Call us today at 888-893-3334 to speak to one of our sales experts. They'll help you learn more about how we can minimize your costs and maximize your linen use!