Company Blog
Questions to Ask Before Picking a Healthcare Linen Provider
Posted by MEDtegrity on Mon, Sep 30, 2019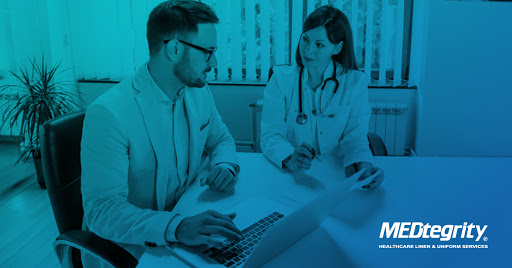 There is no room for error when it comes to the care and maintenance of your healthcare linens and to whom you trust to provide and launder them. Before taking the big leap and hiring a healthcare linen provider for your medical facility, it's imperative to ask the right questions.
Whether you run a massive healthcare facility or a small practice, these questions can help you find the right healthcare linen provider for your establishment: 
1. What qualifications and accreditations do you hold? 
The Hygienically Clean certification and the Healthcare Laundry Accreditation Council (HLAC) accreditation vouch for the safety and cleanliness of healthcare linen service providers. 
Try to find companies with accreditations and certifications from independent, third-party organizations that verify their credibility in the qualities that matter to you.
2. What networks and organizations are you affiliated with? 
When getting to know a company, it's beneficial to look at who they're affiliated with. Are they part of the local chamber of commerce? Are they a member of a reputable network or organization in the industry? 
Companies associated with upstanding organizations are more likely to provide the high-quality services you're looking for.
3. What is your linen rental process? 
Different companies have different ways of doing business, and it's highly important for these processes and operative methods to compliment yours. Find out about their pickup and delivery systems, how they setup repairs, storage, replacements, etc. 
There is no one correct way to go about these things, but look for a company whose rental process works best for your business and delivers the results you need.
4. What are the rental terms? 
This question encompasses everything including charges, length of contract, invoice scheduling, and more. Like the rental process mentioned above, this part of the service should be agreeable to you and compliment your business in the best way.
5. What are your protocols on soiled linens?
Soiled and contaminated linens are frequent in any healthcare facility. Some linens are bound to get exposed to bodily fluids, and it's vital for you to ensure that your healthcare laundry service provider has OSHA-compliant protocols for working with these items. Do they have the highest safeguards against cross-contamination and infections?
All the Medical Linen Specialists in One Place with MEDtegrity
There are no shortcuts to quality, and that includes finding the right, high-quality linen service provider for your medical facility. However, there are easier and more efficient tools to get there – like MEDtegrity Healthcare Linen and Uniform Services!
MEDtegrity is one of the country's largest networks of specialized linen service providers for the healthcare industry. Our members offer a comprehensive range of products and services designed to meet the delicate needs of the medical industry.
Contact MEDtegrity Today!
Learn more about our network, standards, member companies, service areas, and the range of products and services we offer by contacting us today. Call 888-893-3334 to speak with a customer care representative, schedule a consultation, and receive a free quote.