Company Blog
TRSA Spotlights Faultless Healthcare's New Facility!
Posted by MEDtegrity on Mon, Nov 12, 2012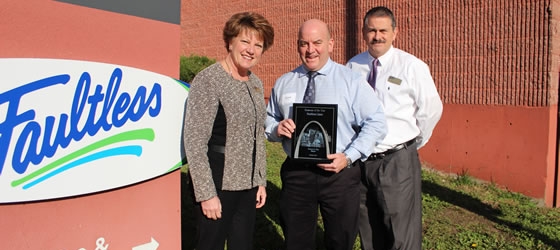 Balloons and blue and green signs heralded the formal opening of Faultless Healthcare's new 100,000-square-foot healthcare laundry in St. Louis on Nov. 8. Some 80 visitors, including customers, prospects and guests stopped by between 11:30 a.m.-2 p.m. for a buffet lunch and tours of the new facility, which boasts an array of technological innovations.
For starters, this plant is unusual in that it's designed to process both bulk hospital linens and outpatient medical textiles in the same facility. An automated dual sorting system from E-Tech Inc. routes outpatient medical goods to a left-side sorting ramp, while bulk hospital linens move to a ramp on the right. The outpatient medical items first are presorted, counted and moved via a vacuum system from Automation Dynamics LLC to the main sorting aisle. Once there, they're sorted into slings that will carry them to the wash aisle. Many of these items, such as scrubs, also are tracked via barcode and sorted automatically on a Softrol sorting system.
In addition, the new Faultless plant north of downtown St. Louis is primarily a "steamless" plant. Rather than a conventional boiler, the company uses super-heated water from a Kemco direct-fire water heater for use in the wash cycle of its Pellerin Milnor PulseFlow® tunnel and conventional washers. A small 30 HP boiler is used to create steam for a Leonard Automatics tunnel finisher and pressing equipment from Unipress and Forenta. The plant also has an advanced finishing system from Chicago Dryer Co. that includes photo sensors that automatically manage traffic as folded goods move off of eight small-piece folders and onto conveyors.
We asked Faultless President Susan Witcher – whose operation was recognized last month as one of several companies to receive St. Louis' 2012 Business of the Year honors- if she felt confident adopting steamless technology even though it isn't yet common in U.S. laundries. "We studied it and decided that was the way we were going to go," Witcher said. "So, do I think we went out on a limb? I don't really know how to answer that other than I'm probably one of the first in my peer group to have one.
"I generally don't like to be the 'guinea pig,' but if you're going to do a project like this, for our company, this probably will not repeat itself. To know that there's cutting-edge technology and efficiency approaches and to not take advantage of them, I wouldn't want to come back two years later and say, 'Oh I wish we had gone steamless.''
The plant is built for growth as Faultless seeks to expand its healthcare services in this city known as the "Gateway to the West." The plant began operating in July in a refurbished industrial building. The reconstruction effort, overseen by Faultless and American Laundry Systems (ALS), took 11 months at a cost of $12 million, said ALS President and CEO Gerard O'Neill. "No corners were cut here," said O'Neill. "It's all new equipment." The building itself cost $2 million. The balance went for machinery and various building improvements, O'Neill said.
The plant currently is processing some 350,000 lbs. per week. About two-thirds of that work is bulk healthcare linen. Roughly one-third of the throughput is outpatient medical textiles (including both flatwork and uniforms). Some 450 area clinics, surgicenters and related facilities use these goods. The plant has a staff of 117 people, including 71 production employees. The facility runs a single shift in an area of town where steady jobs and major capital investment are welcomed. St. Louis officials have pitched in with property tax abatement for the building and an incentive loan to Faultless that the city will forgive – provided that the company continues to support these new jobs, Witcher said.
"This facility was a shot in the arm for the city," said Michael Perry, president of HBD Construction, St. Louis, which partnered with ALS and Faultless on the project. "It's a very welcome development in this part of St. Louis."
Watch for follow-up coverage of Faultless' new plant in an upcoming issue of Textile Services.