Company Blog
Review Your Infection Control Practices with MEDtegrity
Posted by MEDtegrity on Thu, Apr 02, 2020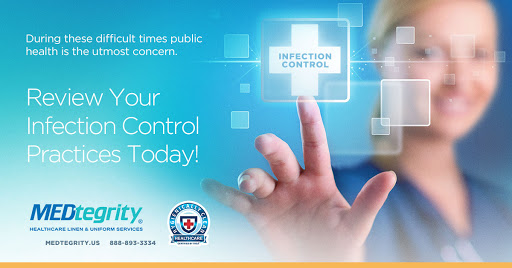 Now more than ever, it's important to have effective infection control practices in place. Your employees and their patients are relying on clean, safe healthcare linens and uniforms.
This is the time to review your infection control practices and ensure that they are in proper order. It's also an optimal time to work with a professional laundry. A professional laundry will take care of your linens and uniforms so that you can focus on other important matters.
Infection Control is Important
Infection control can't be taken lightly, especially in these uncertain times. Medical laundry should be washed professionally and not at home. This ensures proper cleaning and reduces the risk of cross contamination.
Professional laundry providers are dedicated to washing healthcare linens and uniforms as thoroughly as possible, and they have strict policies in place so that you don't have to worry. They utilize the right mixture of chemicals and high temperatures to give you the peace of mind that your linens and uniforms are clean and germ free.
A Laundry Service Makes Your Job Easier
When the health and safety of your patients are on the line, you don't have extra time to worry about laundry. While it's important to review your infection control practices thoroughly, it's also helpful to have a reliable partner on your side.
A professional laundry service will lift the burden of laundry off of your shoulders. They will pick up and deliver your linens on a schedule that suits your facility's needs so that you can focus on what's most important – your patients.
Hygienically Clean and HLAC Accredited
Working with a Hygienically Clean certified provider will ensure that your items are laundered in the cleanest way possible. In order to be certified Hygienically Clean, a laundry has to be committed to best laundry practices as verified by third-party testing and ongoing microbial testing.
The Healthcare Laundry Accreditation Council (HLAC) is the authority on laundry standards, defining everything from physical design and ventilation to equipment maintenance, workflow, hazardous materials, pharmaceutical waste, equipment, contingency planning, employee safety, and more.
HLAC standards provide the definitive criterion for processing reusable textiles for use in healthcare facilities. MEDtegrity is the nation's largest HLAC accredited network.
MEDtegrity is Your Reliable Laundry Service Network
A task as important as reviewing your infection control practices and laundering your medical facility's linens and uniforms properly shouldn't be left to just anybody. Your provider should be chosen from a pool of time-tested, accredited businesses eager to serve you. That's what you get when you choose MEDtegrity. For more information, give us a call at (888) 893-3334.